" I m a g i n e "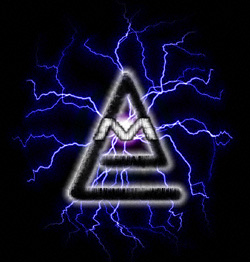 Armageddon Media
Armageddon Media was created in 1999 by Danny Covell. Danny has been creating art since 1993 using the computer as his medium. Playing with logos and names, Danny came up with the "A" and the name "Armageddon" to go with his style of art. "Armageddon Media" first started as just "Armageddon Art". Then along came "Armageddon Pages", and then "Armageddon Sound". This is not the end, but merely the beginning, as "Armageddon Media" grows through time.
If you are interested, you may download any of the logos just so long that they are for personal use only. Simply click on the logo and then save the high resolution version of it. They are free to use and are protected under copyright laws. Alteration, sale, and use for any purpose other than that of it's initial meaning is strictly prohibited.
"Imagine yourself in a world, where light and shadows dance into a rhythmic collection of pixels."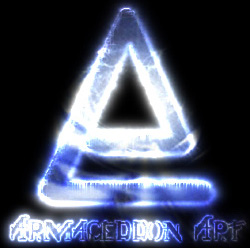 Armageddon Art
Playing around in class with a paper clip, Danny came up with the "A" logo.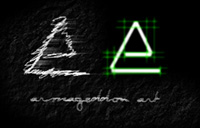 Thinking of a name to go with this "A", "Armageddon" came about. The name was dark, gothic, basically everything he wanted, and to top it all off it got lots of attention, and many comments. Many asked, "Why couldn't you think of something more bright and cheery?" His answer was simply, "I wanted to be different from others and define my style of art and expression." So in 1993, "Armageddon Art" became a reality (strange or not).
"Imagine graphics and the Internet together in harmony"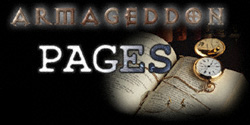 Armageddon Pages
Later on in High School, Danny started dabbling in HTML, and a few years later, "Armageddon Pages" came to light. "Armageddon Pages" was created to bring graphics and the Internet together.
"Imagine a digital collection of sounds and noises forged together, creating an everlasting orchestra of music."

Armageddon Sound
A new addition to the Armageddon family is "Armageddon Sound". "Armageddon Sound" is still in the creation stage with the purpose of bringing the world of digital sound to life with the highest quality and content. Please stay tuned as we build this new addition to our family.
Located in San Diego, California, the Armageddon Media Team is continually growing. Below is a list of our team who are happy to assist you in anyway we can.
Danny Covell ..... Graphic Artist, Web Designer, NT Administrator and President of Armageddon Media.
Chris Fuller ..... Web Designer, Java coder, NT Administrator.

We are new and are still building our team. Please check back every so often to check out what is new.
Copyright Armageddon Media 1999